Wow, our first, real Soof event is now a fact! A dream that we've had for a while has finally come true! 
Specially for a group of enthusiastic and fanatic Soof fans, we organised the Soof End of Summer: Yoga & Brunch event in the Vondelpark in Amsterdam on Saturday the 31st of August. 
After a busy morning of build up, the first Soof fans wandered into the park. We kicked off with a short introduction from Daan and Nicole, because despite the fact that we know most of the fans through social media, it's still great to get to know each other personally.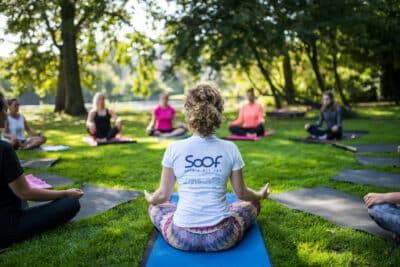 The group was split in two for the yoga classes given by Emmelie and Melissa from Jong Yoga. A nice, quiet and accessible lesson for everyone from beginner to advanced. In the middle of the park, with your yoga mat on the grass, basking in the lovely morning sun! 
After everyone had recovered from class, a long table was ready with a tasty and healthy brunch. In addition to a nice glass of Soof, there were many other lovely products from like-minded brands on the table - without unnecessary additives! During brunch we introduced our newest family member, however, who or what that is will remain a secret for a little while longer! 
We're going to be remembering this fun day for a long time!